The festive period for many is a special time of the year to reconnect with friends and family and in doing so sharing meals and treats together. Here at daveynutrition we have put together a list of our top 10 recommended treat recipes!
10. Dark Chocolate Bounty Balls
Coconut and dark chocolate are a match made in heaven. These two go hand in hand and complement each other perfectly. The sweet taste of coconut is held together by a dark chocolate coating. Delicious with your cup of coffee.

9. Battle Bars
These bars taste so good you won't believe they are made from nutritious ingredients. They really are a fantastic treat to have if you have worked hard all week and want to indulge yourself with something tasty but still easy to make.

8. Hot Chocolate Protein Pudding
This high protein pudding is a great recovery treat before bed or as a low carbohydrate dessert. Casein protein is a slow-digesting protein that supports muscle growth and repair. Together with dark chocolate which is a rich source of antioxidants, it is a powerful muscle-building recovery treat.

7. Heart-warming Cinnamon Roasted Oranges
The aroma in the kitchen whilst your oranges are toasting is a great reason to try this recipe, never mind the immune-boosting vitamin C hit headed your way. Roasted oranges with a sprinkle of cinnamon is a refreshing and warmful snack.

6. Chocolate Nut Melts
The clue for how good this recipe tastes is in the name. With a blend of nuts, seeds and peanut butter folded together in melted chocolate, this is sure to go down as a hit. Keep some leftovers for the lunch box if you can resist eating them all at once.
5. Blueberry Banana Bread
There's nothing better than homemade bread. Except blueberry banana homemade bread! Blueberries, banana and natural yoghurt combine well together and help give the bread great texture and flavour. Blueberry banana bread is perfect for a mid-morning snack with a cup of tea or coffee and will provide you with a source of slow-releasing energy.

4. Chocolate Nutbutter Chards
This recipe is easy to put together and works really well as a party treat for friends. You can break it up and eat it or you can have it with natural yoghurt and fresh blueberries and raspberries.

3. Nut Butter Protein Brownies
While these brownies are mainly a treat they also double up as a great source of quality protein and healthy fats.
Using a variety of protein sources including eggs, casein powder and nuts this high protein treat would work well as a tasty on-the-go snack or as part of a recovery strategy.

2. Peanut Butter Banana Cookies
Just when you thought cookies couldn't get any better, as it turns out they can and we have peanut butter to thank.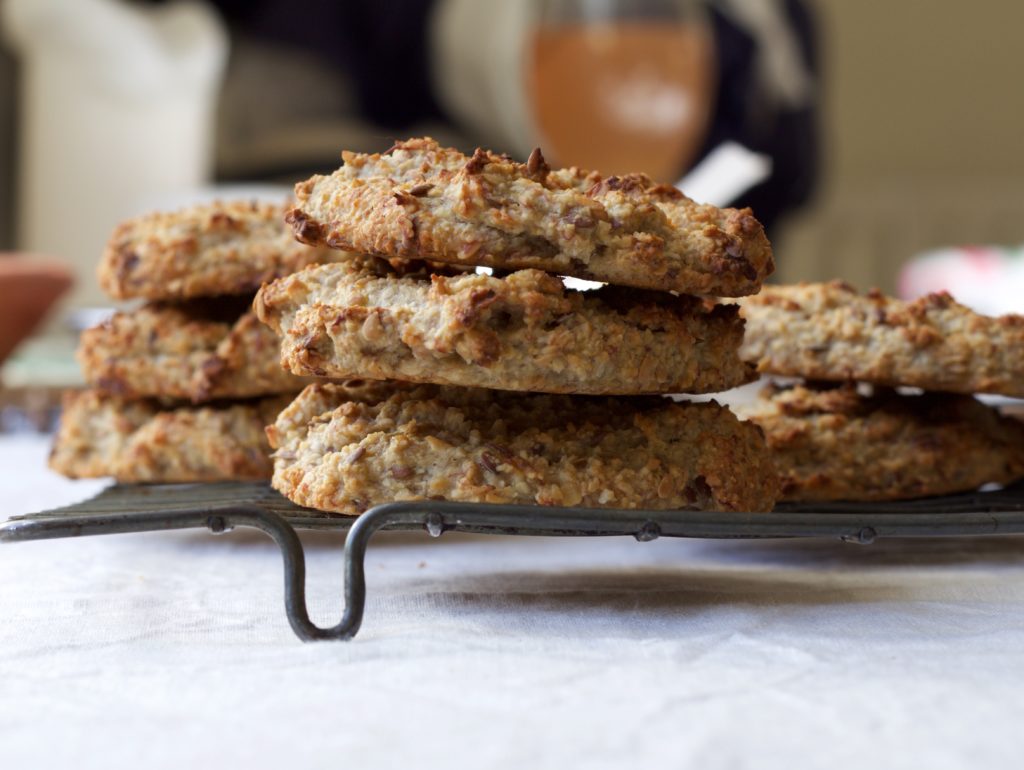 1. Apple-Berry Oat Crumble
Check out this healthy twist on an apple and berry crumble recipe, made with mixed nuts and ground almonds to give you that extra crunch and texture. Whip up this healthy dessert with a superb blend of fruit and all the classic flavours of an oat crumble. The great thing about it is that it can easily double up as a healthy snack, pre-exercise fuel-up option or even breakfast!